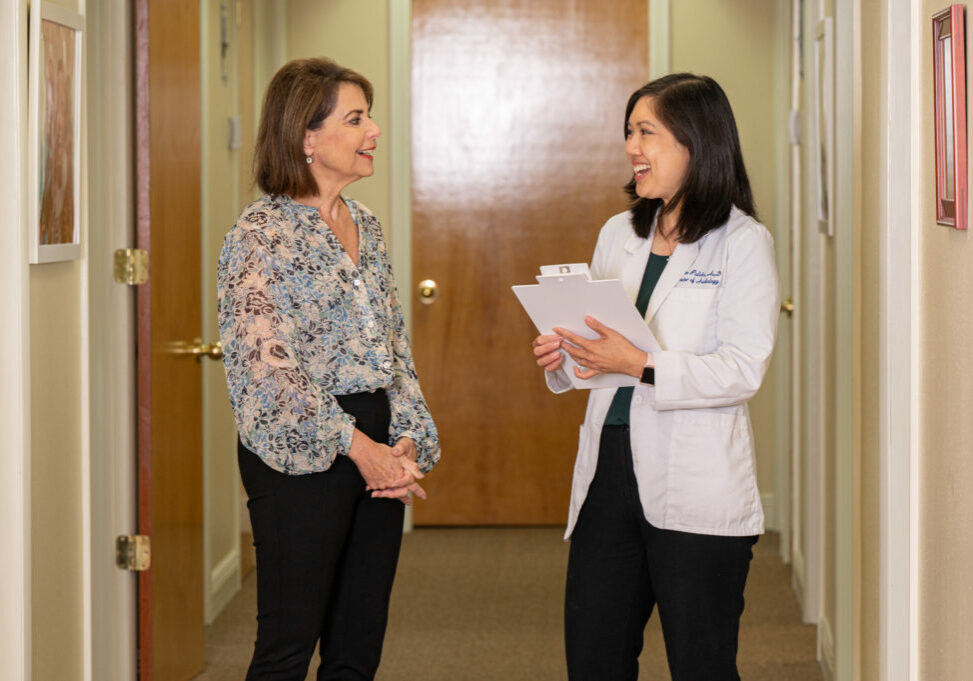 It's time to start thinking differently about your hearing loss.
We know hearing loss can be frustrating for you and those around you. It can be tiring and prevent you from being as engaged in your life as you would like to be. Most people think hearing is simply a problem with your ears, and many other providers treat it that way, but HearCare Audiology knows there is a better way.
With a Functional Hearing Assessment (FHA), we can get to the root of your hearing loss issue by utilizing ear-to-brain testing which helps us to determine how your brain is processing speech. Then we can create a customized treatment plan that provides real results. It's time to fully treat your hearing loss, from the ear to the brain, so you can get back to the life you love.
WE GET TO KNOW YOU
We start by getting to know you and your lifestyle. Having a conversation about your concerns and your goals will help us assess your most challenging situations and develop a plan to address them.
WE GO BEYOND THE BEEPS
We will look at each layer of your ear-to-brain pathway and complete a full diagnostic evaluation.Certain cognitive skills, including memory and processing speed, play a big role in our ability to understand speech in the presence of background noise. A key component in our Functional Hearing Assessment, is the FDA-approved Cognivue. We also use real-world simulations to get a closer look at your day-to-day listening challenges.Our testing goes beyond traditional "listening for the beeps" so we can better assess your hearing and overall communication.
WE ARE MORE THAN HEARING AIDS
Our Audiologists will spend time with you discussing your results and fine tuning your treatment plan. In addition to finding the right technology for your hearing needs, we partner with you for better long term success through education, communication strategies, and additional resources for you and your loved ones.
Diagnostic Evaluation
A thorough medical assessment of your ear health and hearing abilities.
Includes:
Immittance Testing
Hearing Thresholds
Speech Reception
Word Recognition
Real-World Assessment
Measuring your hearing ability for understanding conversation in quiet and in noise.
Includes:
Noise Tolerance
Speech in Noise Testing
Pre and Post Validation
Personalized Treatment Plan
Cognivue
Screening to look at cognitive health and auditory processing abilities regardless of hearing ability.
Includes:
Working Memory
Visuospatial Skills
Executive Function
Reaction Time
Processing Speed
We are living in an era where hearing well or better has become a bit more important. For one, masks make it difficult to get all the clues that the speaker is offering you. I think your brain probably guesses more than one realizes what's being said. Poor hearing simply leads to more mental confusion. This reinforced what I knew going in: This time on my third pair of hearing aids I wanted to do the best I could. It was too important to slough it off. I am glad did. Life is too short to miss so much.

~RICHARD PORTER | HearCare Audiology Patient
Free Hearing Consultation
It is often the small things that hold us back from making a decision. That's why we are on hand to help.
Simply complete the Callback form to request a friendly, no-obligation conversation with one of our helpful team members.