Audiology and Hearing Aids in Sarasota & Venice, FL
Florida's Most Trusted Hearing Care Experts
At HearCare Audiology Center all of our Audiologists have received their Doctorate in Audiology (AuD) and are held to the highest standards. A Doctorate in Audiology requires a four year Bachelor degree and an additional four year Clinical Doctorate in Audiology degree from an accredited university. Along with completing their AuD, our Audiologists also maintain an American Board of Audiology Certificate. This certificate signifies that an Audiologist follows strict continuing education criteria to ensure they are up to date with the most current testing and treatment methods, as well as staying informed on the latest technologies. Each of our Audiologists are members of the Florida Academy of Audiology (FLAA) and the American Academy of Audiology (AAA) organizations. What this means for you is that HearCare is always striving to provide the highest quality of care through dedicated and well trained professionals that have your best quality of life in mind.
Best Practices for Best Outcomes
We know that hearing impacts overall health and quality of life for you and those closest to you. That is why we do not stop our evaluation at a simple "hearing test". HearCare Audiology provides a complete evaluation called a Functional Hearing Assessment (FHA). This assessment starts by measuring the social and emotional impact of hearing on you and your loved ones. Next we screen your auditory-cognition, or how your brain processes sound. Then we do a full diagnostic evaluation that includes tests to check the health of your entire auditory system including word clarity and understanding speech in noise. Finally, you will receive a comprehensive explanation of your test results and a personalized treatment plan for you and your family. Our Doctors of Audiology always follow Best Practice guidelines because we believe that better hearing starts with better testing.
HearCare Audiology Center is a family owned and operated hearing healthcare company that specializes in family centered hearing treatment. Our mission is to reconnect loved ones through the joys of better hearing. We know there are many options when it comes to hearing devices; but at HearCare we focus less on technology and more on quality of life. We know that hearing loss can strain your relationships and can be frustrating for you and your loved ones. That is why our treatment plan starts with a comprehensive functional hearing assessment that looks at how your brain processes what you hear and your total hearing impact, not just your hearing loss. Then, we work with you and your family to find a solution that works best for your specific needs and lifestyle. HearCare Audiology wants to partner with you and your family to provide better hearing and a better quality of life for you and those around you.
It is often the small things that hold us back from making a decision. That's why we are on hand to help.
Simply complete the Callback form to request a friendly, no-obligation conversation with one of our helpful team members.
Dr. Jeffrey Olson and Eileen Olson are married business partners who oversee one of Florida's most trusted audiology clinics, HearCare Audiology Center. HearCare Audiology was established in 2002 by Eileen's mother Dr. Mary Thorpe. After working at the practice for a few years Dr. Jeffrey Olson decided to take a leap of faith and go back to graduate school to obtain his Doctorate in Audiology. Clearly, Audiology runs in the family and what a true blessing it has been to reconnect our patients back to the joys of life through restored hearing. The Olson's became proud owners of HearCare Audiology Center in 2019 and strive to continue a practice of exceptional hearing healthcare. Dr. Jeff and Eileen Olson want to welcome you to HearCare and look forward to working with you on your hearing journey!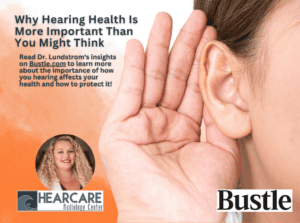 The Importance of Hearing Health "When it comes to your wellness routine, you likely think about the standard…
Read More
If you're looking for a hearing aids store in Sarasota or Venice, Florida – we're here to help! Don't settle for a big box retailer or a hearing aid technician; trust REAL medical doctors who can address more serious issues and properly fit your hearing aid. The digital revolution has made a huge impact on the way hearing aids look, feel and work. They can be so small that they are virtually invisible, so "cool" looking that you will want everyone to see them and so natural sounding, they mimic the way you used to hear before you experienced hearing loss.