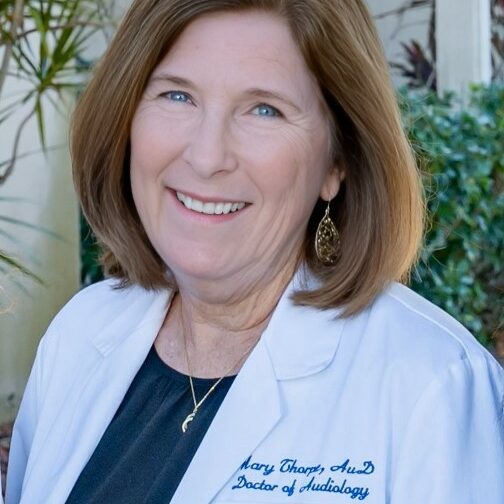 Dr. Mary O. Thorpe
AuD, FAAA Board Certified in Audiology
Dr. Thorpe is a retired audiologist who primarily sees patients in the non profit project Hearing the Call Sarasota that is part of HearCare Audiology Center.
As founder of HearCare Audiology Center, Dr. Thorpe has loved the many patients that she helped improve their quality of life through better hearing.
She is thrilled that Olson's, her daughter and son in law, the current owners , are providing exceptional hearing care services in the Sarasota community in the same tradition that our patients have received over many years
Dr. Thorpe has a Doctorate in Audiology from the University of Florida and has been practicing for over 40 years.
Education:
Doctor of Audiology, University of Florida
Master of Arts in Audiology, University of Kansas
Bachelor of Science in Communication Disorders,
Arizona State University
Certifications & Memberships:
Fellow American Academy of Audiology
Member Florida Academy of Audiology
Board Certified American Board of Audiology
---
What is your favorite season?
Winter in Florida
What's your favorite sports team?
Kansas City Chiefs
What's your favorite food?
Italian
What's your favorite animal?
Dolphin
If you could travel anywhere in the world, where would you go?
Hawaii
It is often the small things that hold us back from making a decision. That's why we are on hand to help.
Simply complete the Callback form to request a friendly, no-obligation conversation with one of our helpful team members.