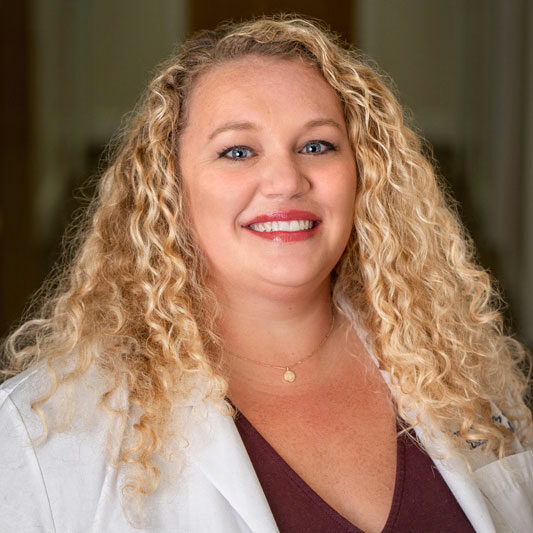 Dr. Sarah Lundstrom
AuD, FAAA Board Certified in Audiology
Dr. Sarah Lundstrom was born and raised in Grand Rapids, Michigan. Her mother is an Audiologist there and Sarah was able to experience first hand the reward of improving someone's quality of life. Dr. Lundstrom completed her undergraduate degree in Biology from Central Michigan University, and her Doctorate in Audiology from the University of Akron in Ohio. While in school, Dr. Lundstrom was an active member of the Student Academy of Audiology and served on the national board as the Advocacy chairman. Dr. Lundstrom is currently a fellow member of the American Academy of Audiology, The Florida Academy of Audiology, and is Board Certified by the American Board of Audiology. She continues to serve on various committees for both her local and national Academy.
Growing up with an Audiologist as a mother, Dr. Lundstrom was able to experience firsthand the impact that hearing has on quality of life. "I always enjoyed watching my mom work with her patients and hearing them talk about how she had changed their lives. I knew I wanted to be able to share in that same joy. My favorite part of being an Audiologist is building authentic relationships with my patients and their families. I love watching how the improvement of their hearing impacts their lives and seeing the rewards of our partnership play out in their daily lives."
Dr. Lundstrom met her husband, Andrew, in Ohio while they were both completing their respective graduate school programs. She and her husband moved to Florida after graduation in order to enjoy the sun and the sand. Andrew is currently a high school science teacher at Booker High School in Sarasota. They have one son, Chase, and several fur babies.
Education:
Bachelor of Science in Biology, Central Michigan University
Doctor of Audiology, University of Akron
Certifications & Memberships:
Fellow American Academy of Audiology
Member Florida Academy of Audiology
Board Certified American Board of Audiology
---
What is your favorite season?
Being from Michigan, my favorite season has always been fall. It is the one thing I sometimes miss since moving to Florida. There are few things more beautiful and peaceful than being surrounded by a rainbow of leaves reflecting off the clear lake water.
What's your favorite sports team?
I have never been much into sports, but my family are Michiganders through and through- which means we have always cheered for the Lions no matter what!
What's your favorite food?
Chocolate! I have a sweet tooth and my son has definitely inherited it from me.
What's your favorite animal?
My favorite animal is a whale. I love all whales, but humpbacks are my favorite. I love hearing them sing and watching them work together as a family.
If you could travel anywhere in the world, where would you go?
I have a long list of places I would like to go some day, but I would really love to travel across Europe.
It is often the small things that hold us back from making a decision. That's why we are on hand to help.
Simply complete the Callback form to request a friendly, no-obligation conversation with one of our helpful team members.