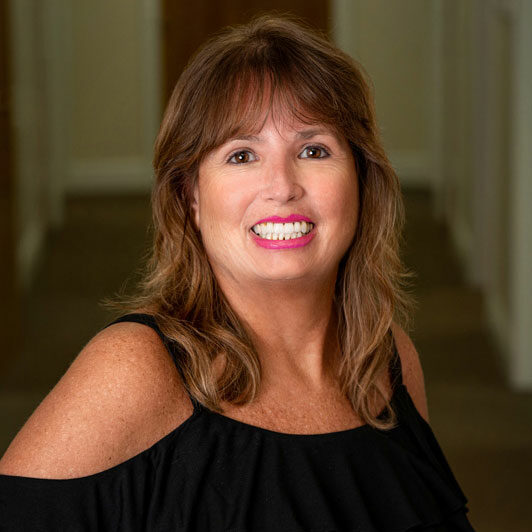 Beth Johnson
Front Office Manager
Beth Johnson has been with HearCare Audiology going on 6 years now, where she is currently the Front Office Manager. A native of New Rochelle, New York, she started her career at Cantor Fitzgerald in the World Trade Center where she worked for 8 years. She then married and raised two beautiful girls. Beth and her family spent most of the 1990's living abroad in London, England and Milan, Italy before making their way back to Florida.
Beth has been involved in customer service for much of her life. Prior to coming to Hear Care she worked in jewelry sales as production manager, as well as retail sales. She is glad to have entered the audiology field where she finds fulfillment in engaging with her community, and from helping people regain their hearing and independence.
Outside of the clinic, Beth enjoys making authentic Italian marinara sauce, and surprise trips to HomeGoods. Beth also enjoys leisurely weekday strolls with her daughter Kendall, who works locally as a nurse; as well as backstage zoo tours with her daughter Kyle, who is an ACSM-certified exotics veterinarian on the east coast. Beth relishes a long weekend where she can spend time with both children at the same time (they even have matching robes).
---
What is your favorite season?
Fall
What's your favorite sports team?
New York Giants
What's your favorite food?
Spaghetti and meatballs
What's your favorite animal?
Elephant
If you could travel anywhere in the world, where would you go?
Bali
It is often the small things that hold us back from making a decision. That's why we are on hand to help.
Simply complete the Callback form to request a friendly, no-obligation conversation with one of our helpful team members.