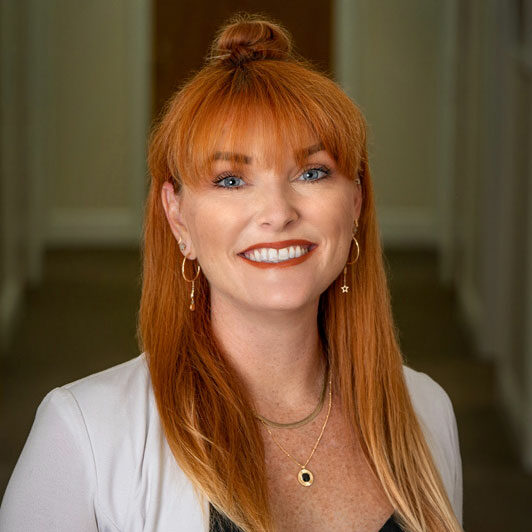 Eileen Olson
President/Owner
Meet Eileen Olson
Eileen Olson is from Kansas City, MO, but has spent the majority of her life in Sarasota, FL. Eileen completed her bachelor's degree in Business Administration from Flagler College in St. Augustine, FL. She is currently just 3 courses shy of her MBA from Webster University.
Eileen grew up with a mother who was an Audiologist and has been exposed to hearing healthcare her whole life. She remembers going on appointments with her mom as a young girl and witnessing how her mom's attentive care and genuine connection would light her patients up. Witnessing the hearing smiles that accompanied her mother's visits was enough to propel Eileen into hearing healthcare. Eileen believes good communication is essential to every person's happiness and overall well-being.
Her favorite thing about the HearCare Audiology team is "working with others who are as passionate as I am about improving patients' lives through better hearing."
Outside of the office, Eileen and her husband Jeff, have 3 beautiful daughters. She loves to exercise and can be found weight training in the gym, running outdoors, and enjoys hot yoga. She loves to paint (especially with watercolor), enjoys reading, cooking and most weekends can be found boating with her family.
---
What's your favorite season?
Fall – I love travelling to North Carolina in the fall to watch the changing colors of the leaves right before they fall for the winter. The vibrant colors of fall remind me of warmth and rebirth. It's my most enjoyable time of year to be outdoors and enjoying all the beauty of Mother Nature.
What's your favorite sports team?
Kansas City Chiefs! Go Mahomes!!
What's your favorite food?
Mexican. I could eat Mexican food for breakfast, lunch and dinner. The more authentic the better!
What's your favorite animal?
Elephant. Since I was a young girl I always loved the majesty, grace, and nurturing nature of an elephant. I have collected elephant statues my whole life and have even been fortunate enough to see Elephants in their wild habitat while visiting Zambia, Africa for one of our Hearing The Call mission trips.
If you could travel anywhere in the world where would you go?
That's a tie between New Zealand and Alaska. I love being outdoors, hiking, bird watching and exploring new terrains. Both Alaska and New Zealand have such stunning topography that I hope to someday experience in person!
It is often the small things that hold us back from making a decision. That's why we are on hand to help.
Simply complete the Callback form to request a friendly, no-obligation conversation with one of our helpful team members.