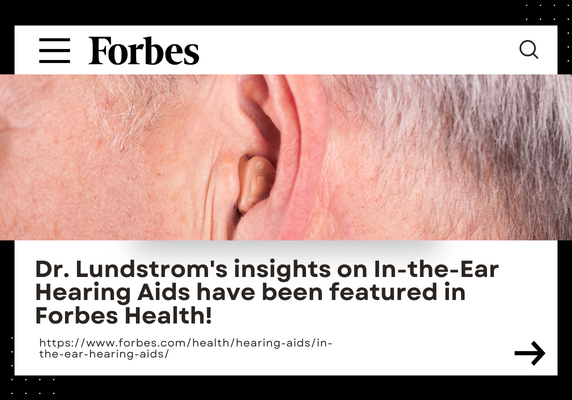 Dr Lundstrom's insights have recently been featured in Forbes Health regarding In-the-Ear Hearing Aids!
"The education and service a person receives is more important than the brand of hearing aid they choose to use, says Dr. Lundstrom." This speaks to why all of our staff here at HearCare Audiology Center seek to provide you with the best service and care possible. Here are some more of Dr Lundstrom's insights on In-the-Ear Hearing Aids:
1) What are in-the-ear hearing aids ?
In the ear (ITE) hearing aids are a style of prescriptive devices that is custom formed to the user's ear anatomy. They come in several sizes (small to large): invisible in the ear, completely in he ear, in the canal, and in the ear half or full shell.
2) What are the biggest benefits of in the ear hearing aids compared to other hearing aid styles?
People typically choose ITE style devices for aesthetic purposes. They often lack extra features like Bluetooth and rechargeability, but can be more discrete. Another good reason to choose in the ear devices is if you have limited space behind the ear, wear glasses or other medical equipment that goes behind the ear (like an oxygen tube), or for ease of use with dexterity or vision issues.
Anyone who is a candidate based on their audiogram and ear anatomy can use in the ear devices. If you have dexterity or vision problems, or have limited space behind your ear, in the ear devices can be a good option for better hearing.
Some of the larger ITE devices will offer bluetooth and/or rechargeability features. They are all prescriptive devices and can fit a wide range of hearing loss. It is best to see a professional for custom molding and prescriptive programming. Prices will vary depending on location and provider experience/education but will likely be $1000 to $3000 per device.
More important than the brand you order is the education and service you receive. Having the best hearing starts with a good exam and proper programming with real ear verification.

Free Hearing Consultation
You Might Be Interested in These Articles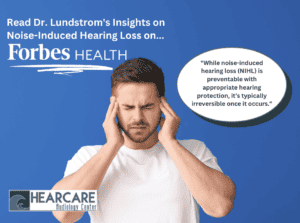 Dr. Lundstrom's insights on noise-induced hearing loss were recently featured on Forbes Health! "While noise-induced hearing loss (NIHL)…
Read More
It is often the small things that hold us back from making a decision. That's why we are on hand to help.
Simply complete the Callback form to request a friendly, no-obligation conversation with one of our helpful team members.