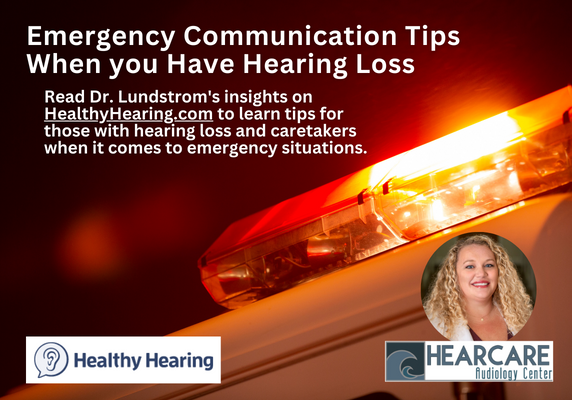 Dr. Lundstrom's insights on "Emergency Communication Tips" were recently featured on HealthyHearing.com!
This article is a must read for those who experience hearing loss and those who are their caretakers. It teaches how to be aware of and prepare for communication challenges during emergencies or disasters and how to provide the necessary assistance for those we care for who experience hearing loss. 
"Communicating during emergencies is deeply challenging: blaring sirens, stressful situations, and downed phone lines are all contributing factors that can make it hard to speak, hear, or think clearly. 
For people who are deaf or hard of hearing, there's an extra layer of complexity and additional obstacles, including: 
Difficulty hearing emergency alerts

More likely to miss subtle cues that signal danger

Hearing and talking to first responders
How To Prepare
For those with hearing loss, here is how to prepare: 
Update alarms and other safety devices

Keep your hearing aids handy

Sign up for emergency alerts 

Consider a medical bracelet

Keep communication support in your go bag
For caregivers who have loved ones who are hard of hearing, here is how you can help:
Check in

and make sure that "they are aware of the situation and understand the instructions," Lundstrom says.

Advocate for the person:

Let people around and first responders know that the person you're caring for is hard of hearing."
Click here to read the full article
Free Hearing Consultation
You Might Be Interested in These Articles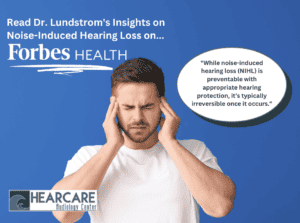 Dr. Lundstrom's insights on noise-induced hearing loss were recently featured on Forbes Health! "While noise-induced hearing loss (NIHL)…
Read More
It is often the small things that hold us back from making a decision. That's why we are on hand to help.
Simply complete the Callback form to request a friendly, no-obligation conversation with one of our helpful team members.