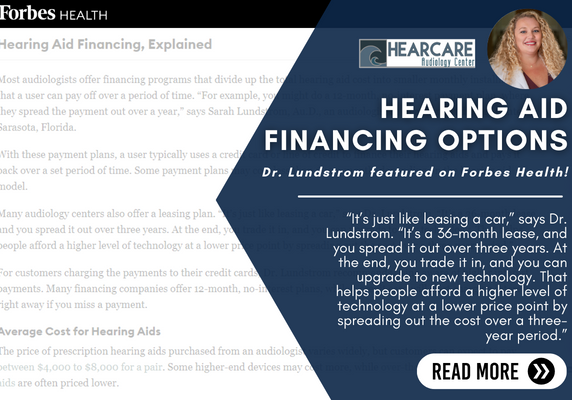 We are thankful for such intelligent, caring audiologists here at HearCare Audiology Center. Dr. Sarah Lundstrom was recently featured again on Forbes Health! Check out her insights on "Hearing Aids Financing Options":
"Hearing Aid Financing, Explained
Most audiologists offer financing programs that divide up the total hearing aid cost into smaller monthly installments that a user can pay off over a period of time. "For example, you might do a 12-month, no-interest payment plan, where they spread the payment out over a year," says Sarah Lundstrom, Au.D., an audiologist at HearCare Audiology Center in Sarasota, Florida.
With these payment plans, a user typically uses a credit card or line of credit to finance their hearing aids and pays it back over a set period of time. Some payment plans may cost less than $40 a month, depending on the hearing aid model.
Many audiology centers also offer a leasing plan. "It's just like leasing a car," says Dr. Lundstrom. "It's a 36-month lease, and you spread it out over three years. At the end, you trade it in, and you can upgrade to new technology. That helps people afford a higher level of technology at a lower price point by spreading out the cost over a three-year period."
For customers charging the payments to their credit cards, Dr. Lundstrom recommends being aware of higher interest payments. Many financing companies offer 12-month, no-interest plans, while a credit card will start charging interest right away if you miss a payment."
Free Hearing Consultation
You Might Be Interested in These Articles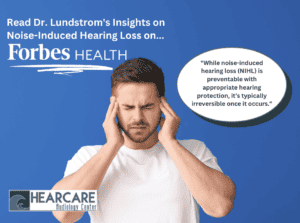 Dr. Lundstrom's insights on noise-induced hearing loss were recently featured on Forbes Health! "While noise-induced hearing loss (NIHL)…
Read More
It is often the small things that hold us back from making a decision. That's why we are on hand to help.
Simply complete the Callback form to request a friendly, no-obligation conversation with one of our helpful team members.